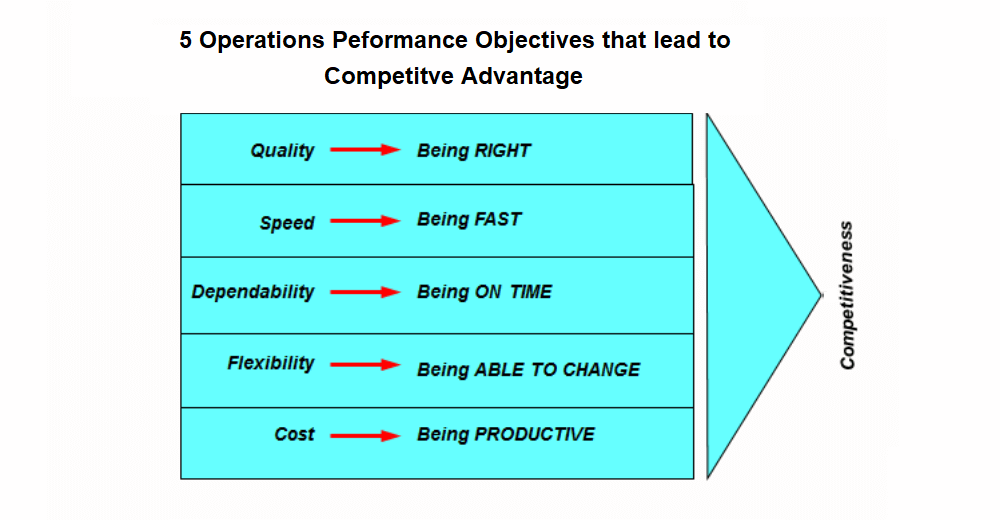 Performance objectives of operations are measurable goals that a company sets in order to ensure that its operational activities are carried out as efficiently and effectively as possible. Learn how organizations use strategic performance objectives to improve operations, optimize operational efficiency, maximizing profitability and to gain competitive advantages.
What are the Performance Objectives of Operations
The performance objectives of operations are a set of specific goals or targets that businesses strive to achieve in order to improve their overall operational efficiency and effectiveness. These objectives are typically defined based on the company's strategic priorities, customer needs and expectations, and industry standards.
Performance objectives of operations can be related to various aspects of operations, such as quality, speed, reliability, flexibility, cost, and innovation. By setting performance objectives and regularly monitoring progress towards achieving them, companies can improve their operations and ultimately achieve greater success.
For example, a performance objective related to quality might be to reduce defects in a product to less than 1%, while a performance objective related to speed might be to reduce the time it takes to produce the product by 10%.
Dimensions: Internal Performance of Operations Systems
When the operations manager sets plans for the operations involved in the productions of goods and services, those plans aim at achieving certain performance objectives such as cost, quality, speed, flexibility, dependability, and the environment or sustainability.
The internal performance of operations systems has generally been measured along five dimensions: Cost, Quality, Dependability of delivery, Speed, Flexibility (Leseure, 2010).
Quality: Deliver an output of higher quality than competitors. Being right, few defects and customer returns. This refers to the level of excellence in delivering products or services that meet or exceed customer expectations in terms of performance, reliability, safety, and overall satisfaction.
Speed: Ability to deliver output faster than competitor of in time frame which matches customer requirements. Being quick in operations, and with lead times, better capacity utilisation. This refers to the time taken to deliver products or services to customers, from order placement to delivery, and includes reducing lead times, improving turnaround times, and increasing response times.
Dependability: Ability to deliver an output to customer on due date. Being on time, reduce bottlenecks and downtime. This refers to the ability to deliver products or services on time, consistently, and reliably, with minimum delays, errors, or defects, and to meet customer commitments.
Flexibility: Ability to vary output as demand dictates. Being flexible in the operations. This refers to the ability to adapt quickly to changes in customer demands, market trends, or operational constraints, by offering a wide range of products or services, customizing products or services, or reconfiguring production or service delivery processes.
Cost: Deliver an output at minimum costs. Company needs to be productive and efficient. This refers to the ability to deliver products or services at the lowest possible cost, while maintaining quality, speed, and dependability, and ensuring profitability and competitiveness in the long term.
So, an operation can contribute to business strategy and provide several advantages by acheiving the five "Performance Objectives". For example:
Doing things RIGHT gives a QUALITY advantage
Doing things FAST gives a SPEED advantage
Doing things ON TIME gives a DEPENDABILITY advantage
CHANGING what you do gives a FLEXIBILITY advantage
Doing things CHEAPLY gives a COST advantage
By achieving these performance objectives, businesses can improve their overall operational performance, customer satisfaction, and bottom line results.
While all these objectives are important, usually one or two are most dominant depending on the organisation's operations.
Link between Performance Objectives and 4Vs of Operations
Different organizations have varying degrees of focus on each of the 4Vs of Operations (Volume, Variety, Variation, Visibility), and this impacts the performance objectives they set.
Link between 4V of operations management and the performance objectives of Operations:
Volume links to Costs & Speed. For example, in a high-volume production environment, a performance objective may be focused on increasing efficiency and reducing costs
Variety links to Costs, Speed and Dependability. For example, in a high-variety environment, the focus may be on flexibility and customer responsiveness.
Visibility links to Quality and Dependability. For example, in a high-visibility environment, the focus may be on brand image and customer experience.
Variation links to Flexibility. For example, in a highly variable environment, the focus may be on reducing lead times and improving delivery speed
So, understanding the 4Vs can help organizations develop appropriate performance objectives that align with their operational needs and business goals.
Competitive Factors
The performance objectives of operations must take into account the following competitive factors (Hill, 1989).
Qualifying factors (QF): Operations performance has to be of a specific standard before customer considers the product/service. Any further improvements in QF is unlikely to give any additional competitive advantage.

Order-winning factors: These directly/significantly contribute to winning business and are the reasons why customers purchase the product/service. Higher performance in these results results in more business for the firm.
The performance objectives of operations are not necessarily a framework or a tool on their own, but they are often integrated with various frameworks and tools to improve operational performance.
For example, the objectives provide a set of targets or goals that can be used to guide the development and implementation of operational frameworks or tools, such as Lean Manufacturing, Total Quality Management, or Six Sigma that provide specific methodologies and techniques for achieving performance objectives, such as reducing waste, improving quality, or streamlining processes.
More operations management topics here.
BATheories.com is managed by a group of educators from Mumbai. We also manage the website StudyMumbai.com. Our panel includes experienced professionals and lecturers with a background in management. BATheories is where we talk about the various business theories and models for BA (Business Administration) students.