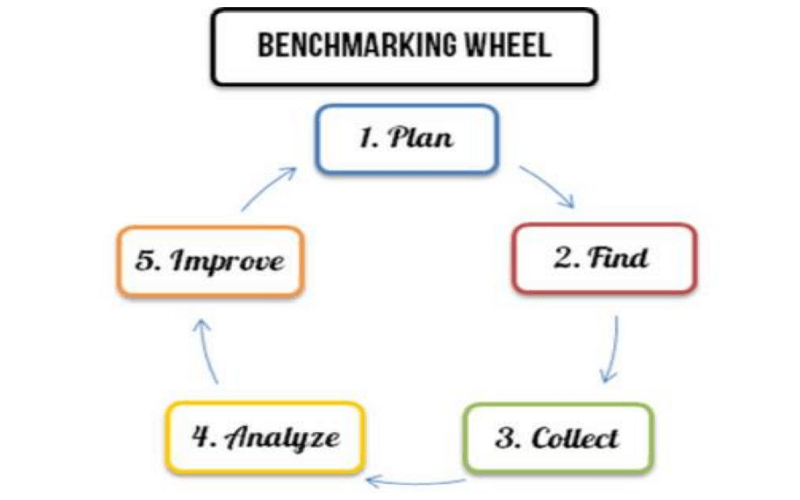 Benchmarking is a strategy tool used to compare the performance of the business processes and products with the best performances of other companies inside and outside the industry.
Benchmarking is used as a way to understand how an organization compares with others. It is a means of understanding how an organisation compares with others – typically competitors.
According to Camp, benchmarking is simply "Finding and implementing the best business practices". Managers use the tool to identify the best practices in other companies and apply those practices to their own processes in order to improve the company's performance.
Xerox has popularized benchmarking and was one of the first companies to introduce the process of doing it.
There are two approaches to benchmarking:
Industry/sector benchmarking – comparing performance against other organisations in the same industry/sector against a set of performance indicators.
Best-in-class benchmarking – comparing an organisation's performance or capabilities against 'best-in-class' performance – wherever that is found even in a very different industry. (e.g. BA benchmarked its refuelling operations against Formula 1)
Benchmarking wheel model
The benchmarking wheel model is a 5 – stage process:
Plan – Assemble a team. Clearly define what is to be compared and assign metrics to it.
Find – Identify benchmarking partners or sources of information from where information is to be collected.
Collect – Choose the methods to collect information and gather data for the metrics defined.
Analyze – Compare the metrics and identify the gap in performance between ones company and the organization observed. Provide the results and recommendations on how to improve the performance.
Improve – Implement the changes to ones products, services, processes or strategy.
BATheories.com is managed by a group of educators from Mumbai. We also manage the website StudyMumbai.com. Our panel includes experienced professionals and lecturers with a background in management. BATheories is where we talk about the various business theories and models for BA (Business Administration) students.