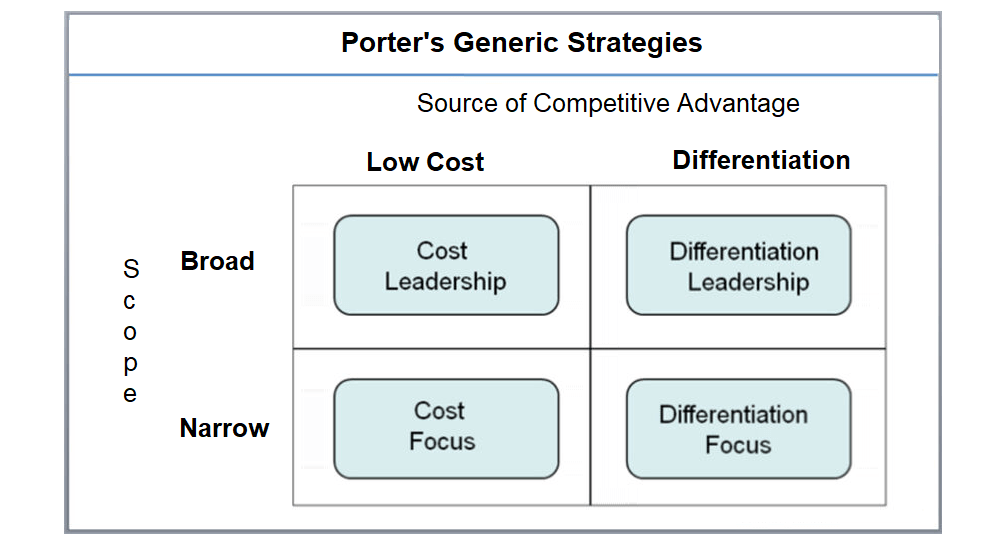 Porter's generic strategies refers to strategies that companies can use to gain a competitive advantage in the market, such as Cost Leadership, Differentiation and Focus (Porter, 1985).
Every business wants to assess and understand competition so that they can plan their actions accordingly, and stay ahead of it. They want to know who the competitors are and how their actions could possibly impact their earnings and future planning. An effective way to analyze competition is one of Porter's Generic Strategies that provides more insight about the competition.
Cost Leadership: Achieve leadership in an industry by offering lower costs. No frills, keep cost down as much as possible.
Differentiation: Create unique products and services. Achieve leadership in an industry by offering differentiated products (people see the products as different from what others are offering).
"Focus" (focus in a niche market). This part is further divided into two parts: "Cost Focus" and "Differentiation Focus."
Cost Focus: Focus on a narrow niche and offer lower costs.
Differentiation Focus: Focus on a narrow niche and offer differentiated products.
For example, and airlines may own a low-cost airline that offers no frills tickets, which are quite cheaper than what the competition offers. This strategy focusses on 'cost leadership'. This strategy focuses on attracting volumes by offering reduced cost. On the other hand, some other airline may focus on on 'product differentiation', especially for their business and first class passengers. The airline will provide better services in the flight, will offer an expanded network across the world and so on.
Airlines may also adopt a 'focused' approach by focusing on certain routes, such as the Middle East, and try to offer a variety of great deals. It may tie-up with luxury hotel chains, offers different kinds of travel packages with adventures and offer other related product offerings within the hospitality industry.
Michael Porter refers to these approaches in his generic strategies. These approaches are called "generic strategies" because they can be applied to products or services in any industries, and organization of any size. These strategies could be used by a company of any size (small, medium or big) to pursue its competitive advantage.
A lot of organizations nowadays adopt a mix of these strategies. There are many companies that follow a differentiation strategy wherein they offers quality products, but it offers a low price, because of which people see more value for their products.
Recommended Books
Porter, M.E. (1985b). Competitive Advantage: Creating and Sustaining Superior Performance. New York: The Free Pess.
BATheories.com is managed by a group of educators from Mumbai. We also manage the website StudyMumbai.com. Our panel includes experienced professionals and lecturers with a background in management. BATheories is where we talk about the various business theories and models for BA (Business Administration) students.