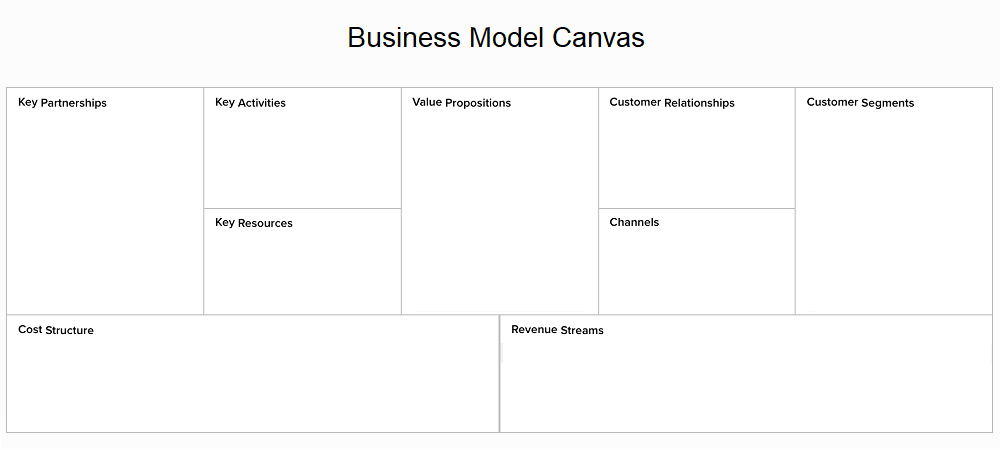 The business canvas model is one of the more commonly used frameworks that are used to explain the business model of a firm, and to explain the more important elements of the business. The canvas displays all this information in a single view thereby making it easy to visualize the business (Osterwalder et al., 2011).
Here's how you would make the Business Canvas Model for a new business (that will sell healthy/organic food products).
Customer Segments
People over 40 years old, both men and women, living in urban areas.
Value Proposition
Make it easy for consumers to buy organic food.
Variety of organic dry fruits and super foods
Lots of informational content on organic food on the website.
Customer Relationships
The business will reach out to the customers using: Online marketing (SEO, social media), Various forms of traditional Advertising, Direct selling by setting up kiosks in residential buildings, Word of mouth marketing.
Key Activities
Key activities within the business.
Procuring the various raw materials
Growing the various food through organic farming (on land in Nasik)
Various promotional activities to sell the products
Delivering the orders – Logistics
Key Partners
Suppliers: The business will require fertilizers and seeds which will be sourced from another company. The various packaging materials will be procured from local businesses and/or from Amazon.
Cost Structure
The major expenses will be on growing the food, to get raw materials such as seeds, fertilizers and paying for farming labour. Other major expenditures will be on Marketing and distribution. The firm will take an office on rent on Mumbai, and a farming land on rent in Nasik.
Revenue Streams
The business will earn revenues primarily through sale of organic food products grown through organic farming. The company will sell various kinds of dry fruits and super foods.
So, in the above example, by looking at the framework, one can see that the business will make money by selling organic food, it will reach out to the target customers through online and offline marketing efforts, the products will be distributed online initially and through other channels later on, the suppliers who will supply the raw materials and packaging materials, the important partners of the business, the key activities that are carried out by the business, the major expenses that the business will incur, and other important things about the business.
References
Osterwalder, A., Pigneur, Y., Oliveira, M.A.Y. and Ferreira, J.J.P., 2011. Business Model Generation: A handbook for visionaries, game changers and challengers. African journal of business management, 5(7), pp.22-30.
BATheories.com is managed by a group of educators from Mumbai. We also manage the website StudyMumbai.com. Our panel includes experienced professionals and lecturers with a background in management. BATheories is where we talk about the various business theories and models for BA (Business Administration) students.