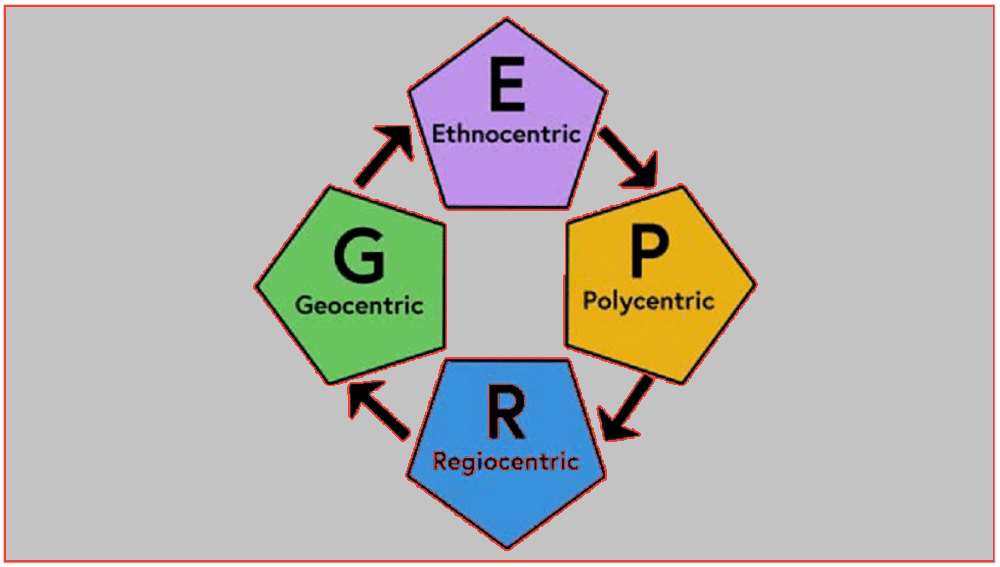 EPRG (acronym for Ethnocentric, Polycentric, Regiocentric, and Geocentric) is a framework to explain internationalization approaches of businesses. It is used in the internationalization process of businesses, and helps understand the type of orientation a firm may have towards international business.
The EPRG Framework explains Management assumptions (conscious & unconscious) or beliefs about doing business around the world, which in turn determines the nature of the firm's response to global market opportunities.
The framework was created by Howard Perlmuter and Wind and Douglas in 1969 (Perlmutter 1969; Chakravarthy and Pearlmutter 1985).
Ethnocentric Orientation
Belief: superiority of home country & priority of home country needs.
Approach to globalization: Standardized or extension approach.
Products that succeed in the home country can succeed anywhere
Extend domestic business strategies to foreign affiliates/subsidiaries
Centralize control in headquarters
Implementation of technologies in foreign locations same/similar as in the home country.
Attitude often associated with national arrogance or assumptions about national superiority.
Example: Eli Lilly and Company
The company operated as an ethnocentric multi-national until the 80's: There was tight control of oversas activities by headquarters. There was extension of products originally developed for the US market. Bottom-line profitability was the main criterion to evaluate local affiliates.
Gradual evolution of global operations:
Major affiliates started participating locally in important tasks (eg., clinical testing, marketing) to seize local opportunities.
Local affiliates started contributing to global objectives (e.g., increased coordination among regional units to share information and resources).
Integration of worldwide operating units to form a global organization (i.e., centralized management of global development plans, procedures, and systems to be decentralized in terms of day-to-day management within local affiliates).
Central management based on home market
Ideas/needs of home are superior to those of foreign subsidiaries
Headquarters dictate the strategy & allow little or no input from the subsidiaries
Top managers in the foreign subsidiaries are most often managers sent from headquarters on relatively short-term assignments
Polycentric (Multidomestic) Orientation
This Orientation is opposite to the ethnocentric one.
Belief: Uniqueness of each country requires different targeting.
Approach to globalization: a localized or adaption approach
Adapt to different conditions for production and marketing in different locations to maximize profits
Adapt products in response to different market conditions
Highly decentralized control in subsidiaries
Limited communication between headquarters and subsidiaries
Example: Rexona
The company had 30 different package designs and 48 different formulations. Advertising was executed on a local basis. Management style was decentralized with local country managers holding lots of power.
Local subsidiaries are given greater leeway to develop and implement their own strategies
Little or no interdependencies arise among subsidiaries
Management positions in local subsidiaries are usually filled by local nationals
Regiocentric Orientation
In this orientation, the belief is that regions are the relevant geographic unit (e.g. Europe, Asia, the Middle East, NAFTA etc.).
Approach to globalization:
Integrate and coordinate the marketing programme within regions, but not across them
Develop an integrated regional strategy
Example: GM
GM executives in different regions had considerable autonomy to design vehicles for their regions. (e.g., some models were developed and made available only in Australia). GM Vice Chairman said in 2004: "GM's global product plan used to be four regional plans stapled together."
Geocentric (Global) Orientation
In this orientation, the belief is that the world as getting smaller & the entire world is a potential market.
Approach to globalization: "think global, act local"
Integrated global strategies & global product concepts but with local adaptions – see both similarities and differences across markets & create global strategy fully responsive to local needs.
A synthesis of ethnocentrism and polycentrism: a combination of standardized and localized elements in the marketing programme.
Example: MacDonalds
Power is at global headquarters but not like ethnocentric approach
Focus is on global markets as a whole not on domestic market
Strong communication lines among various units
Top management at corporate headquarters is likely to come from different nations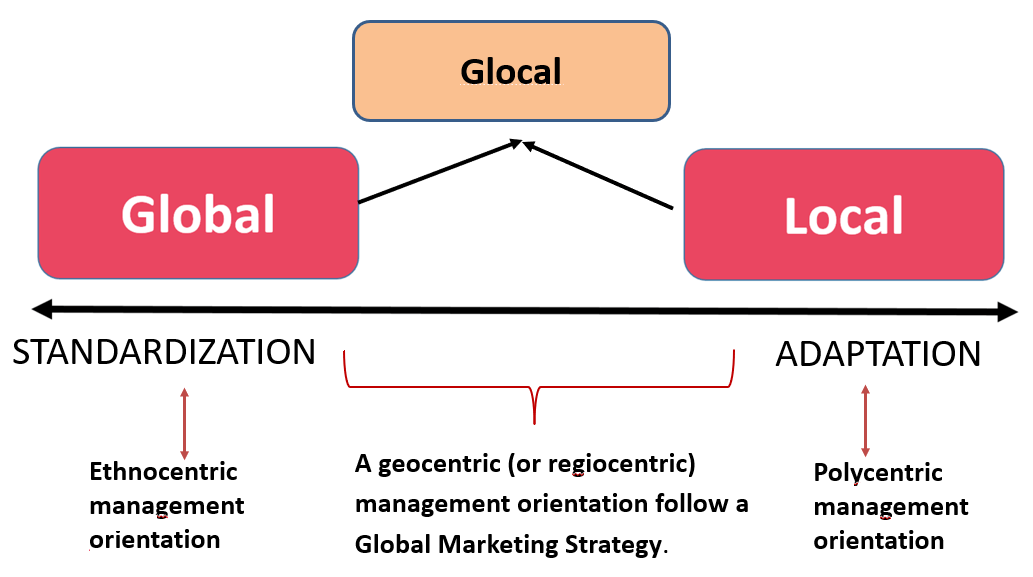 References
Malnight, T. W. (1995). Globalization of an Ethnocentric Firm: An Evolutionary Perspective. Strategic Management Journal, 16(2), 119–141.
BATheories.com is managed by a group of educators from Mumbai. We also manage the website StudyMumbai.com. Our panel includes experienced professionals and lecturers with a background in management. BATheories is where we talk about the various business theories and models for BA (Business Administration) students.