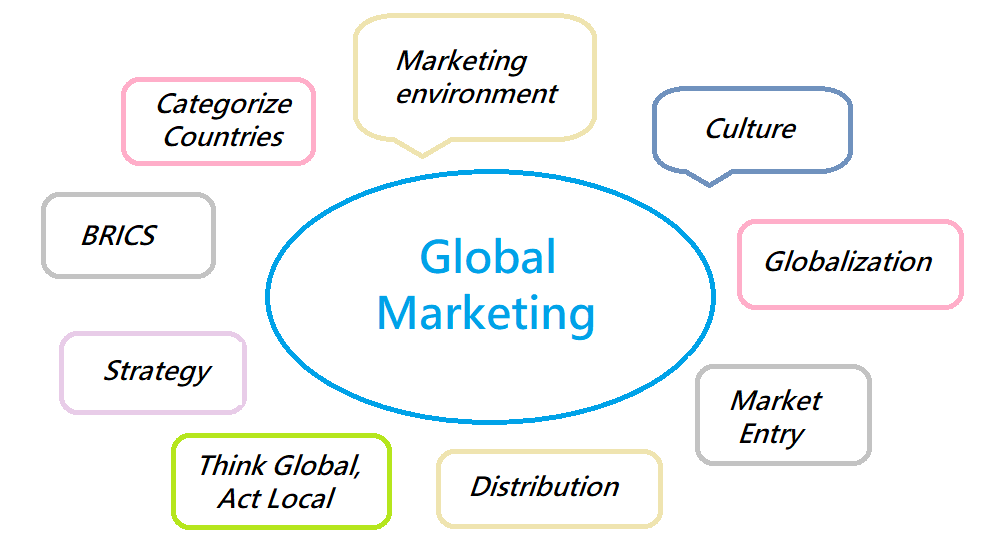 In a globalized world, the entire world is a marketplace, and market segments are no longer considered based only on the basis of national borders.
Products have always been travelling and international trade has existed for centuries. While international trade is not new, the mass-marketization of products in a globalized marketplace is new.
Definition of Global Marketing
The performance of business activities designed to plan, price, promote, and direct the flow of a company's goods and services to consumers or users in more than one nation for a profit.
Each foreign market presents different problems involving some uncontrollable elements. There is a greater possibility of variety of foreign environmental factors to deal with.
Related: Domestic vs International Marketing Strategy
Previously, only the 'big players' in mature industries utilized this approach since it demands massive resources. However, with the advent of the WWW – reach has improved for all. SMEs (small and medium size enterprises) can now do some aspects of Global Marketing e.g. Etsy, eBay.
When Should a Firm Go Global?
Here are some indicators:
Success in own 'home diamond' market (Porter)
Sales & profits are slowing in established markets
Need to protect the business and reduce exposure
There is real 'need' in a territory
Need to improve profitability e.g. decreasing cost-base (COGS), increasing production – thereby running more on variable cost element, decreasing SKUs (stock keeping units)
Product Mix & R&D costs is so high that a firm need larger market territories
Simply, because a firm can.
Global Marketing Strategy
A global marketing strategy involves the creation of a single marketing strategy for a product, company or service for the entire global market.
It involves coordination of marketing activities across national boundaries to find and satisfy global customer needs better than competitors. It encompasses many countries simultaneously and is aimed at leveraging the commonalities across many markets.
Rather than tailoring a strategy perfectly to an individual country, a firm that pursues global marketing settles on a basic strategy that can be applied throughout the world market but it maintains flexible to adapt to local market requirements where necessary.
Global marketing does not mean ignoring national differences. A global strategy must reflect a sound understanding of the cultural, economic, and political environment of the local markets.
Standardization-Adaptation arguments become focal.
Related: EPRG (Ethnocentric, Polycentric, Regiocentric, Geocentric) framework to explain internationalization
This implies:
Develop a global marketing strategy, based on similarities and differences between markets
Exploit the knowledge of the headquarters (home organization) through worldwide diffusion (learning) and adaptation
Transfer knowledge and best practices from any of the markets and use them in other international markets
'think globally, act locally' via dynamic interdependence between headquarters and subsidiaries.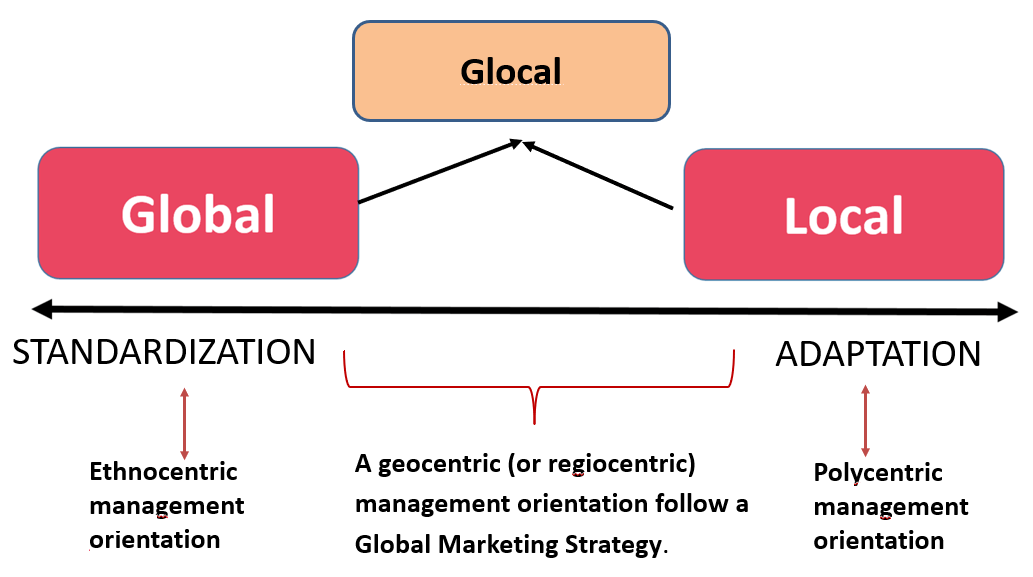 Organizing for Global Marketing
The success of a global strategy is influenced by the selection of an appropriate organizational structure to implement that strategy.
The ideal structure of such as an organization should be a function of the products and services to be sold in a marketplace, and the external and internal environment.
Theoretically, the way to develop a global marketing organization is to analyse the specific tasks to be accomplished within an environment and then to design a structure that will support these tasks most effectively.
Practically, a number of factors complicate the selection of an appropriate organization, such as an already existing organizational structure, continuous change in the internal and external environments.
Taking Stock of Changes Due to Globalization
A global marketing strategy has to take stock of the changes due to globalization, which poses significant challenges to marketers.
Related: BRICS – The Emergence of a New Economic Powerhouse
Emergence of a "New Consumer"
Firms need to take into account changing consumer demographics and expectations, in order to develop successful customer-driven global marketing strategies.
Two major trends are Aging population and wealthier population.
Consumer will live longer (improved health care and diet), will consume more products/services per capita, will have a higher disposal income (work longer), will get more sophisticated (better educated, growing middle class), and are more demanding (have more experiences in comparing products over a longer life span)
Changing Nature of Competition
Competition is now more intense as competition is now global. Organizations need to compete not only in their domestic market but also globally.
The size of competitors is increasing and they have more resources (capital and people) to compete (Microsoft and Apple in computer operating systems, GM and VW in cars, Shell and BP in Oil).
The new competition is between networks rather than single organizations (e.g. joint ventures).
Advent of New Technologies
New Technologies opens up opportunities for development of innovative products and services. It allows a company to reach millions of people at a fraction of the costs that conventional marketing techniques cost. It allows a company to target customers directly, thus eliminating some of the marketing costs. It helps build customer relationship through its interactive nature.
It provides operational benefits, for example, for industrial suppliers: reduced errors, time, and overhead costs in information processing, online abilities to submit bids and online review of awards.
Growing Transparency of Corporate Practices
Until recently businesses had relative freedom to exercise a different set of practices in different countries. Businesses had been able to exploit differences in the legal framework or conditions between countries to maximize profits (e.g. child labour).
The emergence of global media and internet technologies has led to a greater level of transparency of their international practices. New debates are happening about child labour, environmental pollution, global warming, privacy on the internet. There is increasing pressure on organizations not only to be more ethical but also to engage in greater social responsibility towards a range of global social issues.
Steps in international marketing process
Various steps involved in international marketing process:
Related: Internationalization Theories
Designing Global Marketing Mix
Once the firm has decided which countries to enter and which entry modes to use the next issue concerns how to design the global marketing programme/mix.
A fundamental decision regarding the design of the marketing mix is the degree to which it should be standardized or adapted.
This decision revolves around the debate whether a standardized and global marketing approach or a country-specific and differentiated approach has the most merits for the company.
An efficient strategy or channel in one market might not be efficient in another market. Global marketers need to understand how environmental influences (internal, macro and micro factors) may affect strategies and options in each international market.
Product Decisions in Global Marketing
The product P of the marketing mix is at the heart of the challenges and opportunities facing global companies today.
Global Pricing Strategies
There is a global market for certain products such as gold, diamands, oil, and in a true Global Market pne price would prevail. In a true global market, all customers could get the best product available for the best price (Keegan & Green, 2014).
The price P is an important element of the marketing mix for global marketers.
In global marketing, pricing decisions are usually influenced by cost factors, market factors and environmental factors. Market skimming, market penetration and companion pricing are prominent pricing strategies within and across national borders. Price anchoring is a successful strategy in communicating pricing decisions.
Distribution Channel strategy
Distribution Channel strategy in a global marketing programme must fit the company's competitive position and overall marketing objectives in each international market.
Related: Designing Global Distribution Systems
Communication Decisions in Global Marketing
Firms often adopt Integrated Marketing Communications to communication with its target audience, in Global Marketing.
Related: Key features of Global Advertising
Related: Digital (Social Media) in Global Marketing
Global Marketing Plan Framework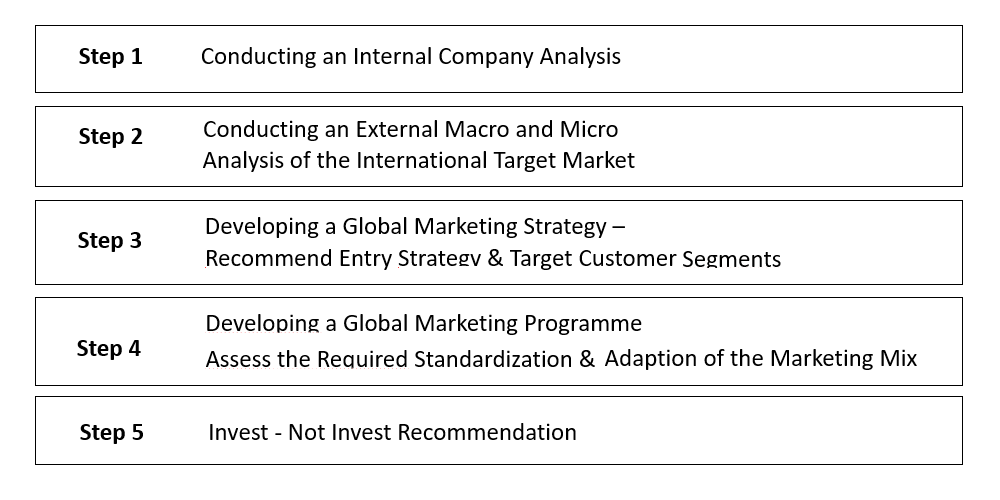 Step 1: Internal Analysis of the Company
Evaluate the fit between the company's current marketing operations and the potentially new ones in the international market under investigation. This summary will also provide insights of how the company should/could enter the new market.
Step 2: External Macro Analysis of the International Target Market
Analyse the macro-environmental factors of the international target market: political, legal, economic and socio-cultural forces of the (target) country. Insights from this analysis will help you to evaluate the attractiveness of this market & how the company should/could enter the new market.
Step 3: Developing a Global Marketing Strategy
Develop recommendations about:
how to enter the market:

market entry mode: export, licensing, franchising, strategic alliances, joint venture, wholly owned subsidiaries – pick the most suitable mode(s) of entry.
waterfall versus shower, concentration versus diversification – as it applies for your company & country (you can consider these strategies within country level. For instance, will you enter one city/region in the country first (waterfall) or will you launch in multiple places (shower)?)

micro segmentation: who are the target customers; what are your segmentation criteria?
Recommendations should be informed by, and in line with, the internal company analysis and the external country analysis.
Step 4: Designing a Global Marketing Programme
Develop recommendations about:
How to standardize or adapt the domestic marketing mix to the new international target market
Consider comparing the domestic marketing mix with the new marketing mix that could be successful in the new target market
Visualize the need to standardize/adapt using a dot plot table
Recommendations should be informed by, and in line with, the internal company analysis and the external country analysis.
Step 5: Recommendation to Invest – Not Invest
Provide a clear enter-not enter/invest-not invest recommendation. Reflect on the general market attractiveness of the international market for your company.
Consider variables such as: Political stability, Cultural similarity, State of economy, Extent of adaptions to marketing mix necessary, Complexity of market entry, Strategic importance of market, Availability/accessibility of the target customer, Growth opportunities. Etc.
Consider questions such as:
What are the opportunities and threats associated with entering this market?
Would the marketing mix you recommend be feasible to handle?
Would the market help with the company's image and competitiveness?
Will there be enough demand in the upcoming years?
Key Success Factors in Global Marketing Approaches
Research and Plan thoroughly – 'Plan, Implement & Control'
Make sure you find the NEED(s) which you can make the most of – USPs (unique selling propositions)
Craft and Build your Brand and the Market Place
Keep innovating to expand those USPs – Innovation never stops!
Build Brand Equity & Don't allow dilution of that – stay consistent
Optimize Marketing Mix and be prepared to adjust keep following it up – things change – ALWAYS be strategic in thought
'Walk first…..Don't run' – learn from your own home market.
Maximize and utilize globalizing forces & reduce/minimize exposure to localizing forces
Quality of People, Corporate Culture and Learnings
Summary
Globalization changes the business environment and poses challenges to organisations operating in a global business
The global marketing environment is defined as those variables, largely out of the organization's control but which the organization must account for, within which it conducts it business globally.
Culture is an important source of difference between countries/societies. Marketers must study and understand the culture of the markets in which they will be doing business.
Global brands can be understood from different perspectives: a traditional 'Levitt' perspective, financial perspective, or a consumer perspective.
We can categorize countries based on their economic development. The stage of a country has implications for global marketers
Political risk is the possibility of a change in a country's political environment or government policy that would adversely affect a company's ability to operate effectively and profitably.
The BRICS countries are new battleground for Global Companies
Market Entry Strategies range from Exporting to Wholly Owned Subsidiaries.
A global marketing strategy involves the creation of a single marketing strategy for a product, company or service for the entire global market. But the strategy should be flexible to local adaptions.
Product adaptation can be discretionary or mandatory. There are several factors that encourage the product adaptation in different countries. Products elements that are often adapted are packaging, labelling, and warranties.
"Think Globally, Act Locally". Standardization versus Adaptation of the Marketing Mix
Price anchoring is a successful strategy in communicating pricing decisions
Distribution channels can be direct and indirect
BATheories.com is managed by a group of educators from Mumbai. We also manage the website StudyMumbai.com. Our panel includes experienced professionals and lecturers with a background in management. BATheories is where we talk about the various business theories and models for BA (Business Administration) students.