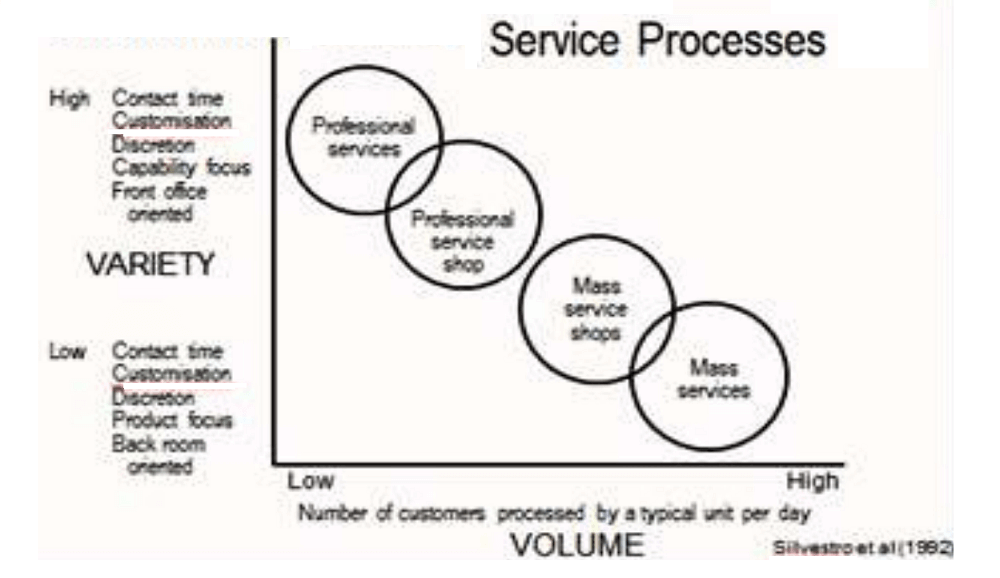 Service operations refer to the business and operational activities involved in actually delivering a product or service to a customer, including service design, service delivery, and service management.
Learn more about the distinct concepts within the broader field of service management. Understand how firms manage service quality and optimize their service operations for maximum efficiency, the strategies they use for improving service delivery and customer satisfaction. Also know about new trends and innovations in Service operations and management.
Service concept
Service concept in business refers to the core strategy that guides the delivery of a service to customers, it is about how an organization wants its services to be perceived by its stakeholders. It includes defining the target market, setting out the unique value proposition of the service, and outlining the key aspects of the customer experience.
Service Concept has two views:
Business proposition (view of the Organization): This is the way the organization would like to have its services perceived.
Perception of service (view of the Customer): This is the way in which the customer perceives the organization's services .
In theory,these two views are the same.
Service concept consists of four elements:
Service operation (refers to how the service is delivered)
User experience (user's direct experience of the service)
Service outcome (how does it benefit the user)
Value (the benefits the user perceives weighed against the cost of the service)
This concept is important in service management and design, as it provides a framework for understanding how to create and deliver effective services.
Service processes
Service processes refer to activities that help deliver a business service to a customer. These processes typically include a series of steps or stages that outline how the service will be delivered, who is responsible for each part of the process, and what resources are needed to complete the service.
This helps create an efficient process that ensures consistency and quality in service delivery, minimizing costs, and maximizing customer satisfaction.
Factors such as "volume" and "variety" can have a significant impact on how service processes are designed and managed, and are often used to describe the characteristics of service processes. "Volume" refers to the quantity of services that are delivered, while "variety" refers to the variety in the services that are provided. These are important considerations for any business that provides services to customers.
Process Variety
Process variety refers to the degree of variation that exists within the various service processes. Service firms often face high levels of process variety due to the diverse range of services that they offer, each with unique requirements and customer demands.
Concept of Runners, Repeaters, and Strangers are used in service operations to categorize different activities or processes within a service operation based on how frequently they occur and how predictable they are.
Runners: Standard activities, high volume operations. Runners are the most common and predictable activities or processes that occur within a service operation, such as routine maintenance or regular customer inquiries.
Repeaters: Standard activities, more complex than runners, occur less frequently. Repeaters are activities or processes that occur less frequently than runners but are still relatively predictable and manageable, such as annual audits or quarterly performance reviews.
Strangers: Non-standard activities, one-off projects. Strangers are activities or processes that are rare and unpredictable, such as a major system failure or a customer complaint that requires extensive investigation.
Here are some examples:
Service: Car Service
Runners: Standard oil change and maintenance. Replace brake pads, etc.
Repeaters: Body panel replacement, Gear box repair
Strangers: Intermittent electrical fault, Product recall
Service: International Airline
Runners: Passenger check-in, Baggage handling, In-flight service, Maintenance, Scheduling
Repeaters: Aircraft overdue or replacement, Serious customer complaints
Strangers: Special charter for VIPs
Service: Hospital
Runners: Patient records, Standard operations, Recovery and rehabilitation, Domestic services
Repeaters: Surgery with 'complications", Dealing with difficult or distraught patients
Strangers: New surgical procedures
By categorizing activities in this way, service operations managers can identify areas where standardization and automation can be effective (such as with runners), as well as areas where more flexible and adaptive approaches may be required (such as with strangers). This can help service operations deliver high-quality services efficiently and effectively while also managing costs and improving customer satisfaction.
Related: Understand more concepts in Operations Management
References
Silvestro, R., Fitzgerald, L., Johnston, R. and Voss, C., 1992. Towards a classification of service processes. International journal of service industry management, 3(3), pp.0-0.
BATheories.com is managed by a group of educators from Mumbai. We also manage the website StudyMumbai.com. Our panel includes experienced professionals and lecturers with a background in management. BATheories is where we talk about the various business theories and models for BA (Business Administration) students.