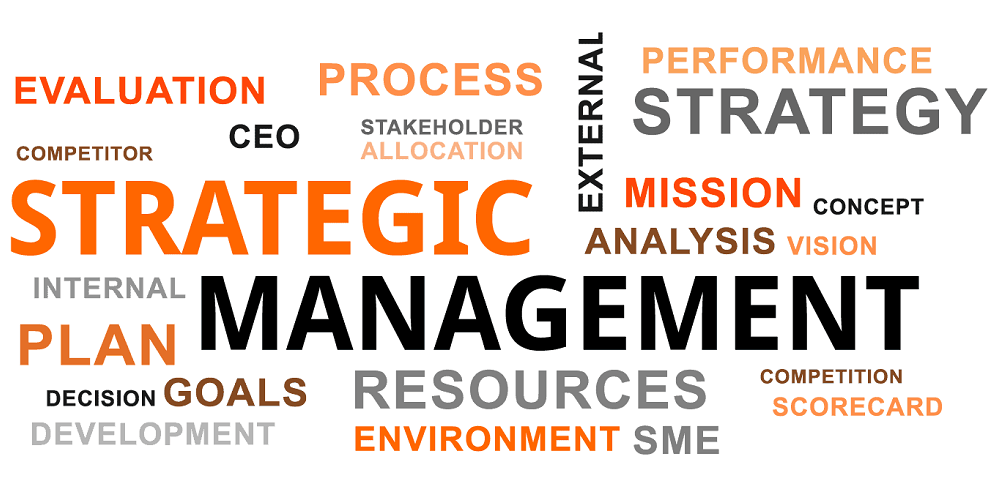 Strategic management is the process of setting goals, objectives and developing plans, policies in order to achieve those objectives, and then allocating the requisite resources to implement those plans. This is done in order to make the firm more competitive.
What is Strategic management?
Strategic Management is concerned with establishing the proper "organization – environment fit" or matching the organizational factors with the environmental factors. It involves an analysis of organizational factors (strengths and weaknesses of the organization) and the environmental factors (threats and opportunities in the business environment).
It is the art and science of formulating, implementing, and evaluating cross-functional decisions and strategies that enable an organization to achieve its objectives.
Related: What is a Strategy?
Strategic-Management is about answering the following questions:
Where are we now?
Where do we want to go?
How are we going to get there?
Strategic management is a costly activity that takes up a lot of management time. It is therefore important to stop & consider why it is important:
Issues, decisions and actions affecting the firm as a whole
Issues, decisions and actions that deal with the direction and scope of the firm
Issues, etc. with a time horizon; long term but with intermediary goals
Issues etc. with resource implications; financial, physical, human and 'knowledge' resources.
'Competitive strategy is about being different. It means deliberately choosing a different set of activities to deliver a unique mix of value.' (Porter , 1996).
Achieving sustainable competitive advantage is the central issue of strategic management
Exists in all walks of life
The ability of the firm to outperform other firms in the market (customers and profit)
Need not be destructive
Importance and Benefits of Strategic Management
In today's age, strategic management is more important than ever for organisations!
It allows an organisation to become more proactive rather than reactive. It has helped organisations formulate sound strategies. These strategies are based on a more systematic, logical and rational approach to strategic choice.
Even if you're on the right track, you'll get run over if you just sit there (Will Rogers)
Strategy without tactics is the slowest route to victory. Tactics without strategy is the noise before defeat (Sun Tzu)
The best way to predict the future is to create it (Peter Drucker)
The essence of strategy is choosing what not to do (Michael Porter)
Benefits of Strategic Management
Benefits of Strategic Management includes Enhanced Communication, Greater Commitment, Deeper/Improved Understanding, Positive Results.
Financial Benefits:
Improvement in sales, profitability and productivity.
Profits will come naturally.
Non-Financial Benefits:
Improved understanding of competitors strategies.
Reduction in resistance to change. More and more opportunities can be exploited in the process.
Helps define the management problems objectively.
Provides a framework for a company to coordinate and control activities.
Encourages strategic thinking!
The Strategic-Management Model
Stages of Strategic Management:
Related: Strategic capabilities of a firm that it uses to compete.
A strategic plan is a company's game plan. It results from tough managerial choices among numerous good alternatives, and it signals commitment to specific markets, policies, procedures, and operations.
References
Strategic Management – Fred R. David, Published by Prentice Hall International.
Business Policy and Strategic Management – Dr. Azhar Kazmi, published by Tata McGraw Hill Publications
Nagpal, Sharma: Strategic Management, SYBMS (Sem. 3), Sheth Publishers
Nagpal, Shelankar, Sharma: Strategic Management, M.Com (Sem. 3), Sheth Publishers
BATheories.com is managed by a group of educators from Mumbai. We also manage the website StudyMumbai.com. Our panel includes experienced professionals and lecturers with a background in management. BATheories is where we talk about the various business theories and models for BA (Business Administration) students.