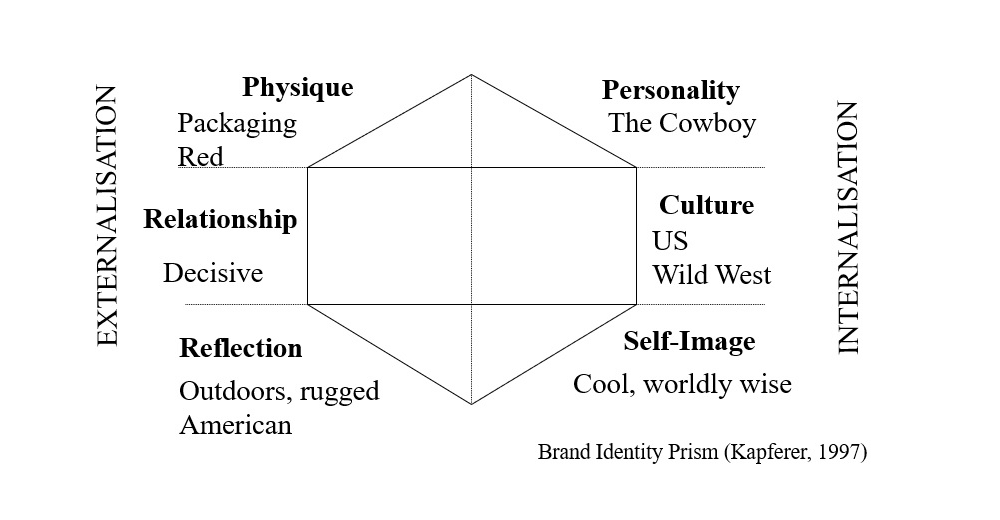 Jean-Noel Kapferer's Brand Identity Prism is a model that talks about the various facets that helps a business build strong, enduring brand identity.
As per the model, a brand's success is driven by a company-wide utilisation of the following elements:
Kapferer Brand Identity Prism: various Facets
Physique
Physical tangible qualities – salient and emerging
The brand's tangible added value
The first step in branding is to define the physical aspect
Example: Coca-Cola – Using bottle images
Personality
This is the brand personified
What kind of person would it be if it were human?
Spokesperson or figurehead helps create instant personality
Example: Pepsi-Cola
Culture
Speaks of the brand
Feeds Inspiration
Reflects the basic principle
Over focus on personality leads to a neglect of identity
Relationship
Brands are a key link in transactions between people.
Brands symbolise characteristics such as:
Charm – Yves Saint Laurent
Performance – BMW
Orderliness – IBM
Friendliness – Cahoot
Reflection
Over time a brand will always build a reflection or image of its user which it is addressing.
Samsung; Citroen C5; The Guardian
Reflection and target are not the same
Customer should be reflected as they wish to be seen by using the brand
Coca-Cola (children and adults), Olivio spread, Orange Network
Consumers use brands to build their own identity
A Brand must control its own reflection – be flattering to your audience
Self-Image
Reflection is the target's outward mirror
Self image is the target's own internal mirror
A brand speaks to our self-image
We develop an inner relationship with ourselves through our brand attitudes
The Prism: Characteristics
The content of one facet echoes another – each being interrelated
Brands only exist if they can speak, communicate
Reflection and Self-image help define the recipient of the communication. These then belong to the brand identity.
Relationship and Culture bridge the gap between sender and recipient
Related: More branding concepts
BATheories.com is managed by a group of educators from Mumbai. We also manage the website StudyMumbai.com. Our panel includes experienced professionals and lecturers with a background in management. BATheories is where we talk about the various business theories and models for BA (Business Administration) students.