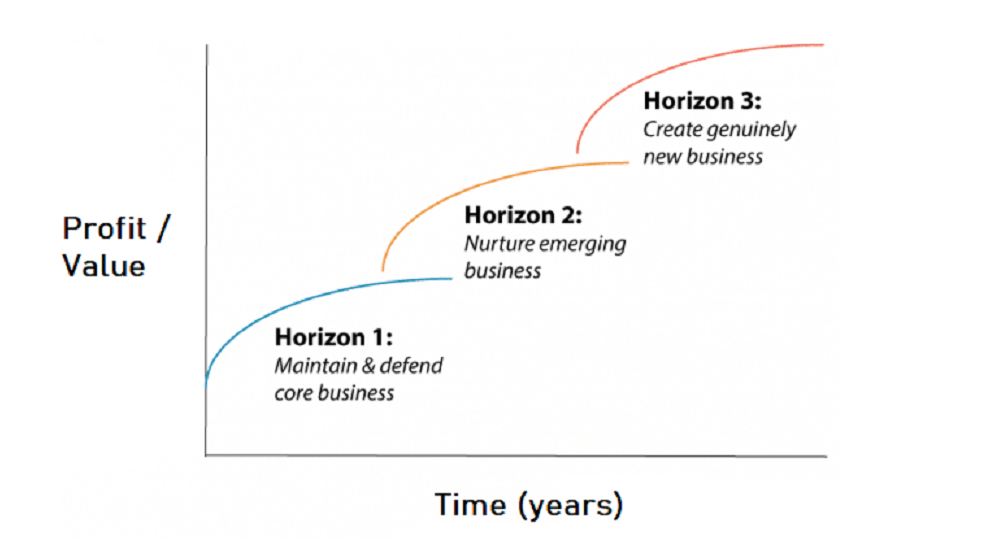 McKinsey's Three Horizons of Growth suggests that a firm should categorize its various goals into three different 'horizons' in order to effectively focus on growth as well as innovation.
Horizon 1
Current core activities – extend and defend these activities. This is about conintuing to do what a firm does best.
Horizon 2
Develop emerging activities – to generate new sources of growth and/or profit. This horizon is about expanding into related areas and new markets.
Horizon 3
Create viable strategic options for the future – higher risk activities that may take years to generate growth/profits. This is about doing R&D in innovative and risky new areas.
Here are some notes related to the chart that depicts the three horizona of growth:
'Profit' on the vertical axis may be replaced by other non-profit focused objectives
'Business' may refer to any set of activities
'Time' on the horizontal axis may refer to varying time periods (in years)
Source: Baghai M., Coley S. & While D. (2000) The Alchemy of Growth, Texere Publishers
BATheories.com is managed by a group of educators from Mumbai. We also manage the website StudyMumbai.com. Our panel includes experienced professionals and lecturers with a background in management. BATheories is where we talk about the various business theories and models for BA (Business Administration) students.