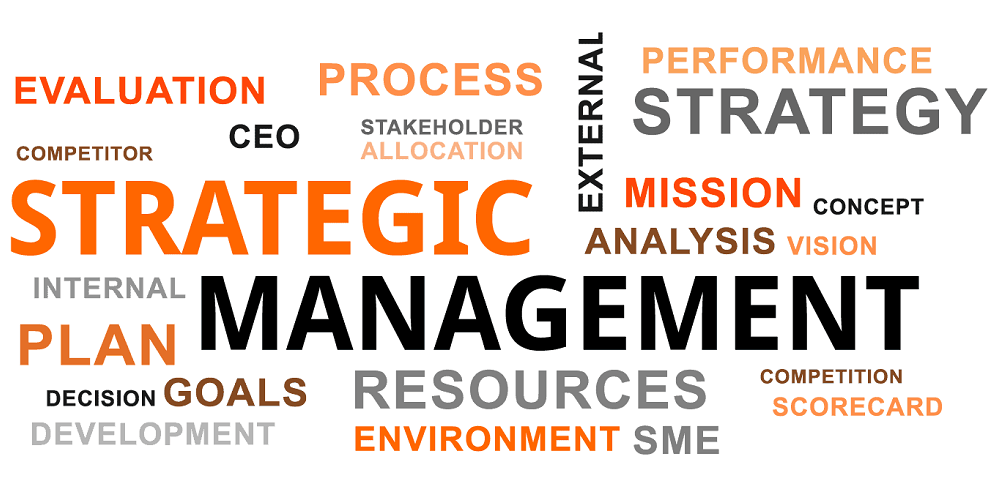 While strategies at the corporate level provide the broad direction, below this level are the business level strategies. Corporate level strategies lay down the framework in which business strategies operate. These strategies are then applied at the business level.
Business strategies are the courses of action adopted by an organization for each of its businesses separately, to serve identified customer groups and provide value to the customer by satisfaction of their needs.
Business level strategies comprise of the actions that provide value to customers and gain a competitive advantage.
Competitive or business strategy is the essence of business. A company with a poor competitive strategy will go bankrupt if it does not find a source of competitive advantage.
A company with a poor corporate strategy is no more than a good takeover target so long as its constituent SBUs (Strategic Business Units) have good competitive strategies.
The basis of good competitive strategy success is simply to offer products or services to a market segment that have or are perceived by potential buyers to have a competitive advantage over those offered by competitors.
Types of Business Level Strategies
Cost Leadership – competing with a wide range of businesses based on price
Differentiation – competing by using a product or service with entirely unique features
Focused Differentiation – not only competing through differentiation (uniqueness of product/service) but also by selecting a small portion of the market to focus on
Focused Low-cost – competing not only through price but by also selecting a small portion of the market to focus on
Integrated Low-cost Differentiation – competing by using both low cost and differentiation.
Cost Leadership
Cost leadership is when the competitive advantage of an organization lies in its lower cost of products or services relative to what the competitors have to offer. The organization outperforms its competitors by offering products and services at lower cost than they can.
Example: Reliance Communication in India was the first company to offer ultra low cost mobile phone at a price of Rs. 501, when other companies like Nokia, Panasonic, Sony etc. were charging comparatively high price. The company was quite successful as it sold many handsets within a week of its launch.
Differentiation
Differentiation strategy is when the competitive advantage of an organization lies in its special features incorporated into the product/ service demanded by customers. This strategy focuses on developing a unique product that customers are willing to pay a premium for. The organization outperforms its competitors who are not able or willing to offer the special features that it does.
Example: Packaging became a differentiator for Parle Agro, when in 1985, it launched Frooti, a non – aerated fruit based drink in tetra pack. Customers perceived it to be hygienic. Frooti maintained price parity with the other glass bottled aerated drinks.
Focused Differentiation
Firm serves the needs of a limited group or segment very well (niche strategies). The more commonly used bases for identifying customer groups are the demographic characteristics (age, gender, occupation etc.), geographic segmentation (rural/ urban or Northern India/ Southern India) or life style (traditional/ modern).
For the identified market segment, a focused organization uses either the lower cost or differentiation strategy.
Example: The branded jewelry business of Titan Tanishq adopts a differentiation strategy offering a range of gold, pearl and diamond jewelry for women and men treating jewelry as fashionable items rather than an investment.
Focused Low-cost
A focused low-cost business strategy is very similar to a focused strategy – one that focuses on a small niche of customers but with one small difference that is lower cost.
Businesses will not only compete on price but also a very select small segment of the market, example, a company that sells to the government alone.
Integrated Low-cost Differentiation
When a business has differentiated products that are offered at a lower cost.
Compared to companies relying on a single strategy, those that integrate two may be able to position themselves to adapt much quicker to environmental changes.
Using this "midway" strategy means that businesses must be able to consistently adapt by reducing costs while adding unique (differentiated) features to ensure customer satisfaction.
Example: IKEA differentiates in design and offers low-cost products.
McDonald: Case Study
McDonald's is an example of that rare company that has successfully executed a combined differentiated and low-cost business-level strategy in its chosen domain—the fast food industry. Using its functional core competencies in marketing McDonald's has had a long-standing practice of creating and disseminating sophisticated advertising and marketing messages that have established the company as a unique brand name in the industry and successfully differentiated it from its competitors. At the same time McDonald's has developed core competencies in supply chain management, including manufacturing and distribution, to carefully control its costs.
For example, McDonald's has entered into a number of strategic alliances with outside parties based on long-term contracts that ensure availability of food items and the supplies and furnishings necessary to operate the extensive network of McDonald's outlets around the world. In addition, in some cases McDonald's actually owns the sources of its inputs, such as herds of cattle in Brazil and other countries. The execution of each strategy is tightly and carefully managed through a rigorous standardization process applied throughout the company's franchise system that allows the company to control the content and quality of the experience that customers have whenever they visit a McDonald's outlet, regardless of its location.
BATheories.com is managed by a group of educators from Mumbai. We also manage the website StudyMumbai.com. Our panel includes experienced professionals and lecturers with a background in management. BATheories is where we talk about the various business theories and models for BA (Business Administration) students.