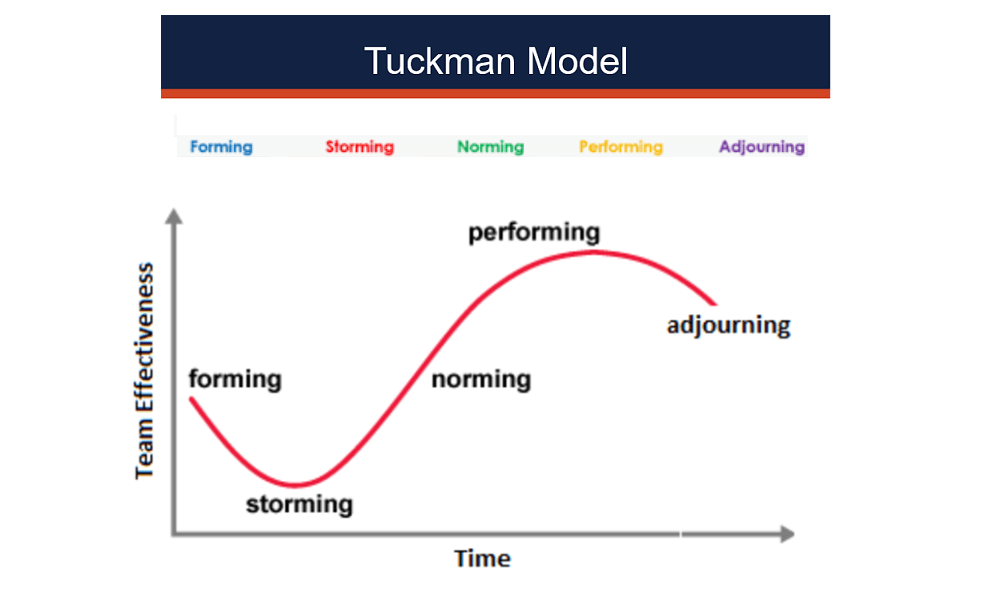 Tuckman Model: Theory to understand the stages of team formation. This model reveals how teams transform as they go from the initial formation towards the completion of the project.
You need a team to do take on bigger things and accomplish things faster. However, not every team works at the highest level of efficiency right from the beginning. Tuckman's theory of team development suggests that a team goes through very stages before it is highly effective.
Key Points
Groups go through various stages – Forming, Storming, Norming, and Performing (Tuckman, 1965).
The group has different needs in each of these stages, including leadership style
In 1965, psychologist Bruce Tuckman proposed the Tuckman's theory which stated that every team goes through five different stages of development, namely 'Forming', 'Storming', 'Norming', 'Performing and 'Adjourning'. These stages begin when a group is first put together for a project, and lasts until the project is completed.
Tuckman's theory five stage model of group development (1965; 1977)
Stage 1: Forming
Formation of the team is the first stage of team development. An easy consensus emerges as team members meet and greet each other.
This is more like an orientation period where the team spends time getting acquainted and bonding. Team members try collecting more information, and there tends to be a general lack of trust. A member who is more experienced, knowledgeable or asserts authority may try to seek control.
There is high degree of guidance needed from manager as individual roles are yet unclear and processes are usually not well-established at this stage.
Stage 2: Storming
Storming is the most challenging stage for any team and once can see conflicts, competition, lack of trust, as personalities of the individual team members arise. Differences in personality, role and priorities emerge as the team addresses the task/s on hand.
There may be clarity of purpose and a better understanding of how team decisions are made; however, team relationships remain blurry.
Team performance may nosedive as unproductive activities take up most of the efforts. Team members may challenge various ideas, may disagree on team goals, sub groups may form, and conflicts may increase.
This stage requires strong facilitative leadership (or authoritative leadership) to resolves the conflicts, get the team to agree on various things considering individual differences, and to keep the team focused on team tasks and goals.
Related: Theory X / Y Manager Approach
Stage 3: Norming
Once the team moves past the Storming stage, most of the conflict is resolved; some degree of unity is seen. This is a harmonious stage where the roles, rules and values are in place and agreed upon by the team.
A consensus emerges as differences are worked through. Relationships are well-understood in the team. There is more commitment towards team goals. The group begins to work to optimize team process.
Team members learn to cooperative, take more responsibility, focus on the team goals and performance improves.
Leadership can be a bit relaxed but they also need to be careful since the harmony is not stable and lot of disagreements can push the team back to the Storming stage.
Stage 4: Performing
The team is mature, well-organized and clear about what they need to do. The team reaches effectiveness and carries out the task/s. The team is now committed to performing well. There is focus on being strategic.
The members back each other, they work towards achieving the goal, and require minimum assistance or instructions from the leader.
Team runs well with little oversight. Conflicts and other issues may still arise but it handled in a much better manner.
Stage 5: Adjourning
The team agrees it has completed its task.
Mourning
A sense of nostalgia for the team – it may be difficult to re-integrate into normal work patterns.
Bruce Tuckman later added one more stage to his theory (in 1975), the Adjourning stage (also known as the Deforming or Mourning stage). Since most of the goals have been accomplished, the team members are assigned to other teams. If the team is closely bonded, there may be regret at the end of the project, so senior managers may consider acknowledging the team's work and their success.
Tuckman Model: understanding the stages of team formation

Tuckman's model offers a simple way to understand how groups develop and can be used to train people on team development, thus enabling the group to achieve their full potential.
References
Tuckman, B.W., 1965. Developmental sequence in small groups. Psychological bulletin, 63(6), p.384.
Tuckman, B.W., 1967. Group composition and group performance of structured and unstructured tasks. Journal of Experimental Social Psychology, 3(1), pp.25-40.
BATheories.com is managed by a group of educators from Mumbai. We also manage the website StudyMumbai.com. Our panel includes experienced professionals and lecturers with a background in management. BATheories is where we talk about the various business theories and models for BA (Business Administration) students.