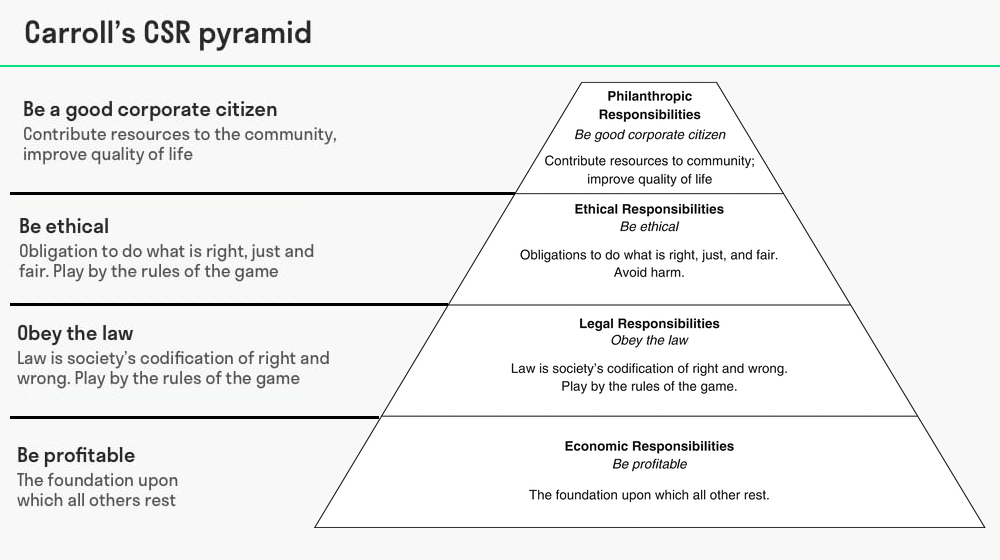 Carroll's CSR pyramid is a framework that explains how organisations can take social responsibility, it highlights the four important types of responsibility of organisations.
This is one of the most well-used models used to describe and explain CSR(Carroll, 1991, in Tench and Yeomans, 2017, p.84).
According to Carroll, businesses have four types of responsibility: economic, legal, ethical and philanthropic. Tench (2017) explains that the model can be used in conjunction with the stakeholder responsibility matrix to set out how organisations can meet their responsibilities.
Here's an example matrix for a clothing manufacturer, using the customers as the chosen stakeholder group (Developed by Tench, 2017, p.85).
Economic: Financially well-managed company, Clear financial reporting.
Legal: Conform to consumer health and safety product guidelines (e.g. quality controls and standards for fire safety of garments, etc.) . Use Correct labelling. National and transnational product labelling eg European standards.
Ethical: Fairly priced products. Highest quality. Products are designed for and fit for purpose (eg workwear). Provide best products with the highest standards of care for employers and suppliers. Transparent sourcing of materials (no use of child labour or low-paid employees). Do not abuse suppliers or workers.
Philanthropic: Give waste products to needy organisations. Give unsold products to customers' preferred charities or homeless groups. Support other employee or customer initiatives.
BATheories.com is managed by a group of educators from Mumbai. We also manage the website StudyMumbai.com. Our panel includes experienced professionals and lecturers with a background in management. BATheories is where we talk about the various business theories and models for BA (Business Administration) students.