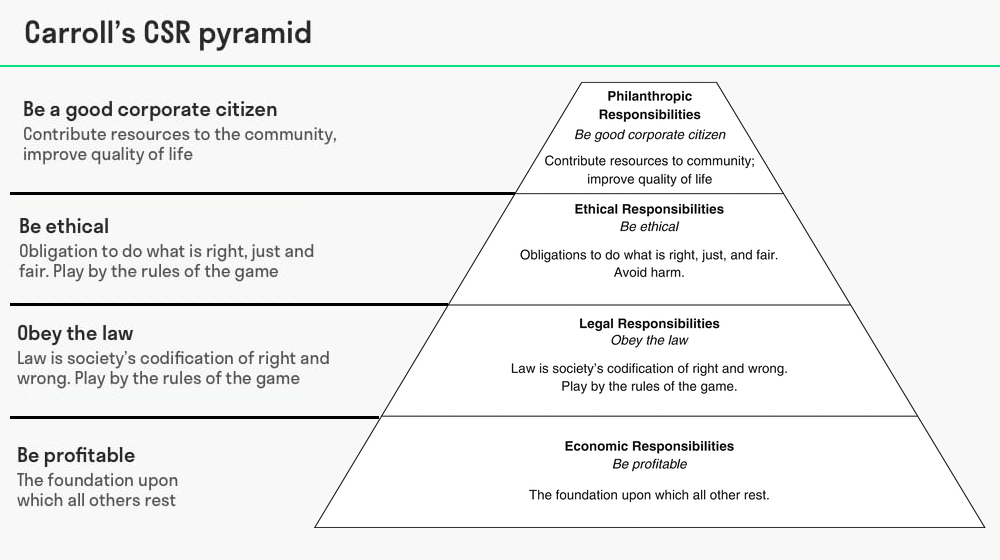 Carroll's CSR pyramid is a framework that explains how organisations can take social responsibility, it highlights the four important types of responsibility of organisations.
This is one of the most well-used models used to describe and explain CSR (Carroll, 1991, in Tench and Yeomans, 2017, p.84).
According to Carroll, businesses have four levels of responsibility: economic, legal, ethical and philanthropic. Tench (2017) explains that the model can be used in conjunction with the stakeholder responsibility matrix to set out how organisations can meet their responsibilities.
The four levels of responsibilities are as follows:
Economic responsibility of being profitable. The company should produce good quality products and offer good services to clients. It should offer safe working environment and offer fair wages to employees. It should provide reasonable returns to investors.

This is the only way to survive and benefit society in long-term. This forms the base of the pyramid upon which other responsibilities rest.

Legal responsibility of abiding by the laws set forth by society. E.g. Employment, Competition, Health & Safety

Abide by government laws, abide by federal and state regulations. Provide goods and services that meet legal requirements.

Ethical responsibility of performing business operations which are morally correct. Businesses should go beyond narrow requirements of the law. E.g. Treatment of suppliers & employees.

Conduct business ethically. Treat employees, suppliers, clients ethically. Recognize ethical/moral norms adopted by society.

Philanthropic or discretionary responsibility which is to contribute resources towards social, educational, recreational and/or cultural purposes. While discretionary, this responsibility is still important. E.g. charitable donations, staff time on projects.

Engage in CSR activities (that are more aligned with business objectives). Encourage employees to volunteer for social cause. Engage in community development efforts.
There are several corporate leaders who feel that the model is too simplistic. However, the Carroll's Pyramid is easy to use and understand. It conveys the message that CSR has more than one element to it, it lays its main emphasis on the aspect of profit generation.
Here's an example matrix for a clothing manufacturer, using the customers as the chosen stakeholder group (Developed by Tench, 2017, p.85).
Economic: Financially well-managed company, Clear financial reporting.
Legal: Conform to consumer health and safety product guidelines (e.g. quality controls and standards for fire safety of garments, etc.) . Use Correct labelling. National and transnational product labelling eg European standards.
Ethical: Fairly priced products. Highest quality. Products are designed for and fit for purpose (eg workwear). Provide best products with the highest standards of care for employers and suppliers. Transparent sourcing of materials (no use of child labour or low-paid employees). Do not abuse suppliers or workers.
Philanthropic: Give waste products to needy organisations. Give unsold products to customers' preferred charities or homeless groups. Support other employee or customer initiatives.
Carroll's CSR pyramid suggests that firms should engage in practices and take responsibility at four levels – Economic, Legal, Ethical, and Philanthropic, if they really want to be seen as a responsible company. It means the company has to be economically profitable, it should adhere to all the laws of the land, it should do what is right where the law does not provide guidance, and it should engage in philanthropic work (Carroll, 2016).
A firm that shuns it philanthropic responsibilities is likely to be seen as an unethical company, and on the contrary, engaging in philanthropy will help improve the reputation of the firm.
To sum it up, Carroll's CSR Pyramid outlines the different levels of CSR that companies can engage in. According to Carroll, firms must first fulfill their economic responsibilities before moving on to the other levels of responsibility. Businesses use this model to evaluate their CSR efforts, and to ensure that they are meeting their social obligations as corporate citizens.
References
Carroll, A.B., 2016. Carroll's pyramid of CSR: taking another look. International journal of corporate social responsibility, 1(1), pp.1-8.
BATheories.com is managed by a group of educators from Mumbai. We also manage the website StudyMumbai.com. Our panel includes experienced professionals and lecturers with a background in management. BATheories is where we talk about the various business theories and models for BA (Business Administration) students.