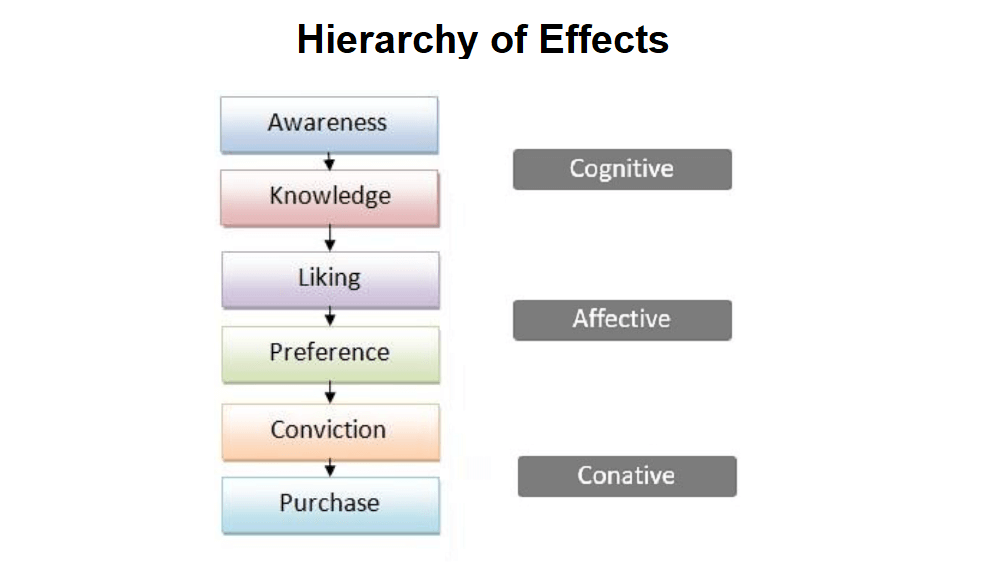 The Hierarchy of Effects Theory is a model in marketing and advertising that describes the sequence of stages a consumer goes through when making a purchase decision. These stages include awareness, knowledge, liking or interest, preference, conviction, and purchase.
The theory proposes that advertising and marketing efforts can guide consumers through these stages, leading them towards making a purchase.
The Hierarchy of Effects Theory is used by advertisers and marketers to understand consumer behavior and to design effective marketing communication efforts.
Various Stages
1. Awareness
This is the starting point for purchase. Usually, through advertising or marketing efforts, consumers become aware of a product or service. Businesses ensure their brand is visible to the consumer in the specific product category.
2. Knowledge
In this stage, consumers try to understand more about the benefits and features and compare the product against other brands.
So if a consumer is looking for a new laptop, they will learn more about the laptop's features, such as its processes, RAM, hard disk size, graphics, etc., and compare with laptops of various brands.
Companies try to provide sufficient (positive) information about the product via online sources, retail stores, and the product packaging itself.
3. Liking
In this stage, consumers start developing an emotional connection with the product. Consumers usually develop a positive perception towards a product or service, based on their knowledge of it.
So, a consumer may like a Dell laptop because it is very sturdily built. Someone else may like a Mac book due to its sleek looks.
Businesses try to highlight the product's emotional benefits to consumers.
4. Preference
At this stage, consumers develop a preference and may be convinced to try the product, but may also have a preference for other brands.
In this stage, the consumer decides that a particular brand of laptop is their preferred option over other alternatives.
Therefore, businesses must emphasize the product's unique selling points to make sure consumers prefer their brand over the competition.
5. Conviction
This is the stage where doubts in consumers' minds about purchasing the product is overcome. The consumer is now convinced that a particular product or service is best for their need.
Marketers can assist in this process by offering free samples, test drives, and other incentives. This step can ultimately determine if the consumer will make a purchase or switch to a competitor after testing the sample.
6. Purchase
The final stage of the consumer buying cycle is the actual purchase. A firm must ensure the buying process is easy for the consumer.
To encourage purchase, businesses can offer simple and diverse payment options, ensure product availability, provide clear usage instructions, and offer special deals.
The hierarchy may vary depending on the type of product or service being advertised, as well as the target audience and marketing strategy.
References
Lavidge, R.J., & Steiner, G.A. (1961). A Model for Predictive Measurements of Advertising Effectiveness. Journal of Marketing, 25, pp 59 – 62.
BATheories.com is managed by a group of educators from Mumbai. We also manage the website StudyMumbai.com. Our panel includes experienced professionals and lecturers with a background in management. BATheories is where we talk about the various business theories and models for BA (Business Administration) students.