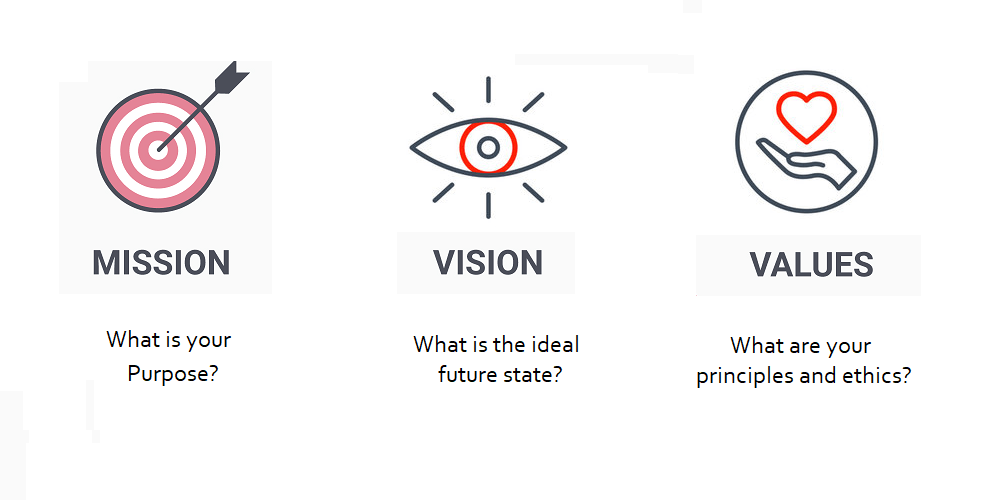 Understanding mission, vision and value statements. A mission statement talks about the organization's business, its purpose, its objectives and how it intends to meet those objectives. A vision statement details what the organization hopes to become in the future, where it aspires to go. The values statement talks about the organization's core principles and ethics.
Mission Statement
A mission statement states what a company is currently doing, talks about its customers, products, markets, technology, concern for its stakeholders, philosophy, etc.
The mission statement should mention who (customers) the firm will serve, how the firm will add value for customers and other stakeholders, where and what will the organisation market, what guiding values will the organisation adopt, and what are the distinctive capabilities of the organisation (Wood, 2017).
The mission statement should also be purposeful enough to endure for the long term and guide the organisation into the future.
A company's mission statement is important in the marketing planning process and certain information from the mission statement is needed when putting a marketing plan together.
Vision Statement
A vision statement talks about the long-term and so it has "strategic intent". A vision statement is "inspirational", talks about the organisation's values, objectives, its future, what it intends to become, etc.
A good vision statement should be inspirational, have a clear purpose, and should aim to do what the organisation currently is not doing.
A poor vision statement is one that is generic, vague, too long and focusses more on on financial issues.
Note: Some organisations may state only their mission statements or may have only their vision statements while some companies may have both.
Examples
Ikea says its vision is "to create a better everyday life for the many people".
Ikea values – Caring for people and planet, Simplicity, Renew and improve, Different with a meaning, Give and take responsibility, Lead by example
Tesla mission: to accelerate the world's transition to sustainable energy.
Tesla places a lot of emphasis on "sustainability" in its mission & vision statement.
These statements are quite helpful in other planning activities such as for developing the marketing plan because one needs to know who the firm will serve, what it expects to achieve in the long run and – in general terms – how it will compete, now and in the future.
BATheories.com is managed by a group of educators from Mumbai. We also manage the website StudyMumbai.com. Our panel includes experienced professionals and lecturers with a background in management. BATheories is where we talk about the various business theories and models for BA (Business Administration) students.