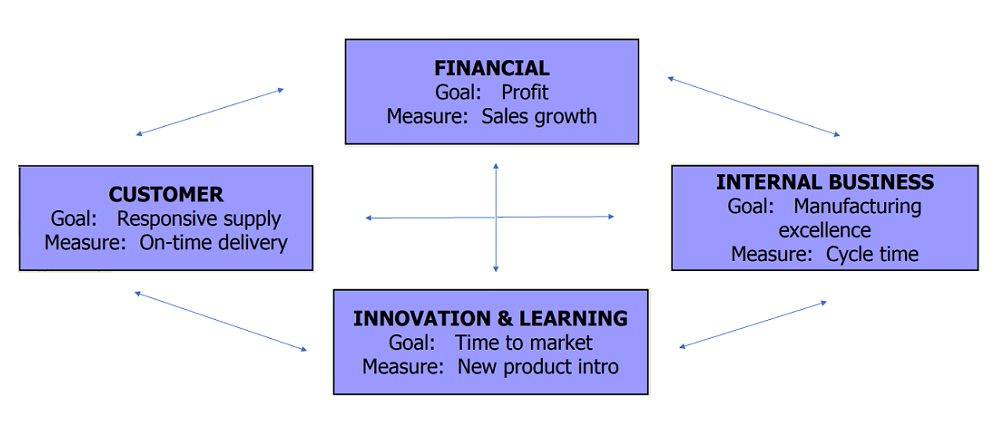 Balanced scorecard (BSC) is a strategic management performance metric that provides a comprehensive view of the business. In addition to finance measures, it also measures customer satisfaction, internal processes, and the innovation and improvement activities of the organization.
Several executives felt for a long time that the traditional measures of financial performance were not enabling them to effectively manage things and felt that they needed operational as well for effective management.
Arguing that executives should track both financial and operational metrics, The Balance Scorecard is a measure that lets executives do that as it incorporates four sets of parameters (Kaplan and Norton, 2001).
Kaplan & Norton introduced the Balanced Scorecard to reinforce the importance of considering other business performance measures alongside financial ones.
Advantages of balanced scorecard to a firm:
Over the years, Balanced Scorecard has become more popular with businesses using it as a framework for building strategy. Being able to fir the strategy in one-page allows a firm to easily communicate its strategy internally as well as externally.
It enables managers to view performance of several areas (seemingly disparate elements) using one tool.
It lets managers see if improvements in any specific business areas have been achieved at the expense of some other areas.
Projects and Initiatives are better aligned with strategic goals. Having the Balanced Scorecard established enables firms to align their projects and initiatives in such a way that they deliver on the more strategic objectives.
Using BSC, firms are able to come up with key performance indicators that are aligned with the various strategic objectives. As a result, the firm measures things that matter which eventually helps improve their performance.
It can be customized to fit the needs of an organization.
Some studies however have stated the limitations of BSC as well. It says that because BSC makes a firm focus most of its resources to achieve its goals, it may lead to underutilization of potential in areas not covered within BSC; and may hamper inter-organizational innovation (Emad and Amir, 2015); it may also lead to overtly focus on metrics (HBR, 2019).
References
Ardalan, K., 2017. Capital structure theory: Reconsidered. Research in International Business and Finance, 39, pp.696-710.
Atrill, P. and Mclaney, E.J. (2021). Management accounting for decision makers. Harlow, England ; New York: Pearson.
Atrill, P. and McLaney, E.J. (2020). Financial Management for Decision makers. 9th Ed. Pearson
Dyson, J.R. and Franklin, E. (2020). Accounting for non-accounting students. 10th ed. Hoboken: Pearson.
Emad, A and Amir, A (2015). A Critique of the Balanced Scorecard as a Performance Measurement Tool. International Journal of Business and Social Science. 6. pp 91
HBR (2019). Don't Let Metrics Undermine Your Business. [online] Harvard Business Review. Available at: https://hbr.org/2019/09/dont-let-metrics-undermine-your-business.
Kaplan, R.S. and Norton, D.P. (2001). Transforming the Balanced Scorecard from Performance Measurement to Strategic Management: Part I. Accounting Horizons, 15(1), pp.87–104.
BATheories.com is managed by a group of educators from Mumbai. We also manage the website StudyMumbai.com. Our panel includes experienced professionals and lecturers with a background in management. BATheories is where we talk about the various business theories and models for BA (Business Administration) students.