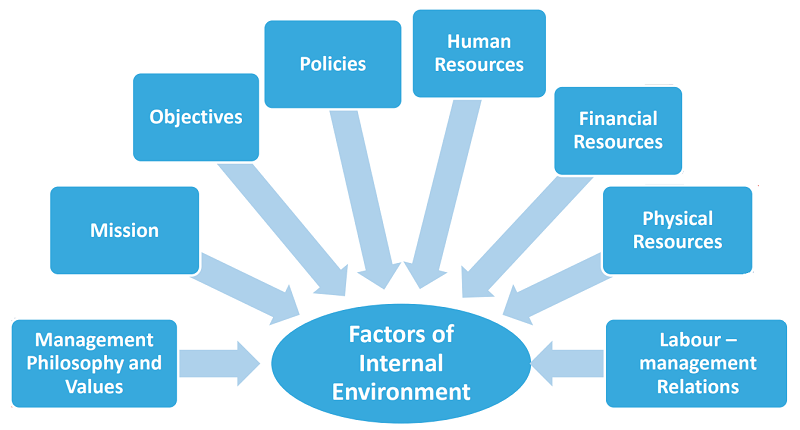 The Internal Environment includes all aspects that are directly within the span of control of the global company and can be altered, stopped or started at its decision, e.g. strategy, structure, people, processes, resources.
What is the Internal Environment?
The internal environment refers to the culture, people (directly or indirectly related to the organization), events and factors within an organization that can influence the working of an organization.
The internal environment of an organization can be controlled, whereas a firm cannot influence the external environment.
What to Analyse in Internal Environment?
In Johnson's Exploring Strategy Model, under Strategic Position, one finds 'Resources' which is what one analyses as part of Internal analysis.
Here's what is typically analysed in the Internal Environment:
Organisational resources and capabilities such as: core competencies, human resources, financial resources, informational resources, supply resources.
Current offerings such as: product and services being offered, product mix and lines, sales, features and benefits, pricing and profitability, contribution to performance.
Previous performance such as: previous year figures on sales, profits and financial results, historic trends in sales and profits, results of earlier marketing plans, customer relationship trends and costs.
Here's how Analysis of Internal Environment helps:
Identify strategic capabilities in terms of organisational resources & competences & how these relate to the strategies of organisations
Analyse how strategic capabilities might provide sustainable competitive advantage on the basis of their
Value, Rarity, Inimitability & Organisational support (VRIO)
Diagnose strategic capability by means of VRIO analysis, value chain analysis, & SWOT analysis
Understand how to manage & develop strategic capabilities
The various internal factors that can influence business strategy and other decisions include: Management Philosophy and Value system: This includes culture, work processes, norms and management practices of the organization. Vision, mission and objectives. Organisational Structure. Organisational Policies. Corporate Culture. Human Resources. Marketing. Management. Financial Resources. Physical Resources and Technological Capabilities. Labour Management Relations.
Strategic Capabilities: The Key Issues
Strategic capabilities can contribute to competitive advantage and superior performance. Firms need to diagnose their strategic capabilities and manage the development of its strategic capabilities.
Resources: Assets you have
Competences: Skills you have
Capabilities: Adequacy & suitability of resources & competences to enable the organization to survive & prosper
Resource-based Strategy
The resource-based view (RBV) of strategy asserts that the competitive advantage & superior performance of an organisation are explained by the distinctiveness of its capabilities.
It is sometimes also called the 'capabilities view'.
Internal Environment Analysis Tools
Various tools used for Internal Environment Analysis:
Value Chain Analysis: A means of looking at the value chain / network to understand how value to a customer is created / developed
Barney's VRIO Model: A means of assessing the sustainability of an organisation's capabilities
SWOT Analysis: Draws together an understanding of strengths, weaknesses, opportunities & threats an organisation faces
Benchmarking: A means of understanding the relative performance of organisations
Activity Mapping: A means of identifying more detailed activities which underpin strategic capabilities
Read more on Strategic Analysis and Formulation
BATheories.com is managed by a group of educators from Mumbai. We also manage the website StudyMumbai.com. Our panel includes experienced professionals and lecturers with a background in management. BATheories is where we talk about the various business theories and models for BA (Business Administration) students.