Schiffman and Kanuk uses a marketing segmentation approach to explain Consumer Behaviour. The authors have explained the model in their book named 'Consumer Behaviour'.
Consumer buying behaviour is the study of the buying behaviour of consumers; it tries to understand the decision making process of the consumer, their shopping habits and purchasing behavior. Schiffman and Kanuk explain how the intenet has changed the way how consumers research for a product before making a decision.
Every customer goes through a buying decision making process that comprises of several steps such as becoming aware of a need, finding information to look for solutions to satisfy the need, eveluation of the various alternatives, making the purchase and a post-purchase decision.
Schiffman & Kanuk's model of consumer decision making suggests that this process can be categorized under three stages. The model by Shiffman and Kanuk (2000) highlights the three stages and shows the many variables that can impact on the decision to purchase. It shows three distinct but intertwining stages: the input stage, the process stage, and the output stage.
Figure: Model of Consumer Decision-Making (Schiffman, Hansen and Kanuk, 2000)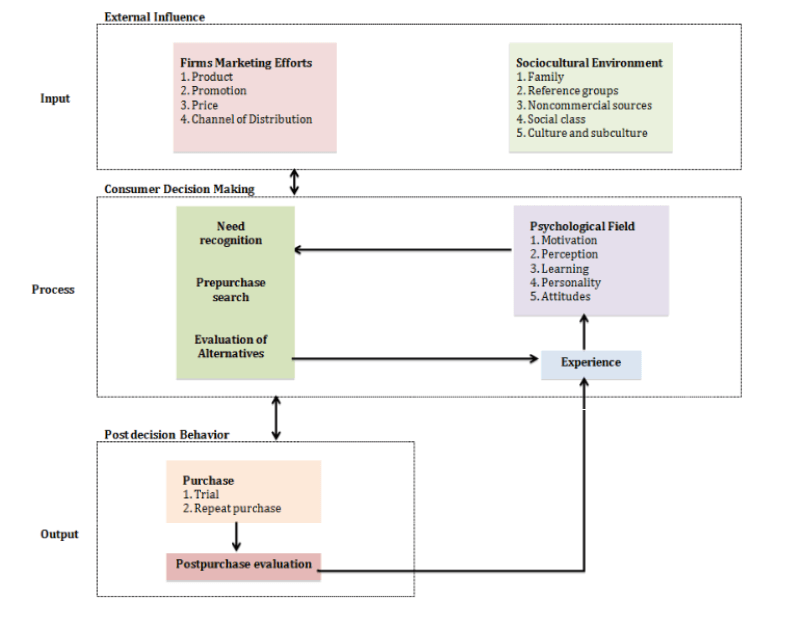 Input Stage (External influences)
Influences the consumers recognition of a product need, through 2 sources of information:
the firms Marketing efforts (4 p's) – Product, Promotion, Price, Channels of Distribution.
the external socio-cultural influence –family, friends, social class, culture, informal sources, other non-commercial sources, etc.
Both the factors impact buying decision.
Process Stage (Consumer Decision Making)
This stage focuses on how consumers make decisions.
Need recognition, pre-purchase search and evaluation of alternatives influenced by psychological factors – motivation, learning, perception, personality and attitude.
Output Stage (Post-decision behaviour)
Relates to 2 activities:
1) Purchase behaviour – Trial, repeat purchase
2) Post purchase evaluation – satisfaction, dissatisfaction, return, after sales influence these decisions
References
Shiffman, L. and Kanuk, L., 2000. Consumer learning. Consumer behavior, 192.
SCHIFFMAN, LEON G., AND LESLIE LAZAR KANUK 1987 Consumer Behavior. Third edition. Prentice-Hall, Englewood Cliffs, New Jersey.
BATheories.com is managed by a group of educators from Mumbai. We also manage the website StudyMumbai.com. Our panel includes experienced professionals and lecturers with a background in management. BATheories is where we talk about the various business theories and models for BA (Business Administration) students.